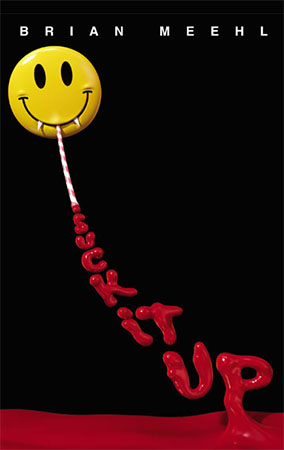 Publisher:

Delacorte Books for Young Readers

Available in:

Hardcover, Paperback, Kindle, Nook
Tired of the same old bloodsucking vampire stories? Up to your neck in fang-popping fiends?
Meet MORNING McCOBB, the wimpiest vampire ever:
He drinks a soy-blood substitute called Blood Lite.
He believes staking should be a hate crime.
Someday he wants to march in a Vampire Pride Parade.
He's also the first Undead American to out himself and prove that vampires are just another minority with special needs.
The undead get a madcap makeover in SUCK IT UP

Awards
Lone Star Reading List 2009
Truman Readers Award nominee 2010-2011

Reviews
"Meehl's contribution to the growing subgenre of YA vampire novels is very, very funny—similar to M.T. Anderson's Thirsty, but less twisted and heavier on the humor. Morning McCobb, a recent graduate of the IV (International Vampire) League, is the vampire as superhero, geek and lonely boy all rolled into one. His first postgraduation assignment is to tell the world that yes, vampires do exist. Becoming the first out—and therefore most famous—vampire isn't easy (cue the media frenzy). Being around this unlikely heartbreaker is difficult, too, as Portia Dredful finds out when her PR agent mom's highest-profile client moves in with them. The author is especially clever with names (Penny Dredful, Merder Sink), his prose engaging, smart and fast-paced. Witty one-liners pile up while Meehl exploits every known vampire cliché to great comic effect (Morning not only refuses human blood, he's vegan, subsisting on a protein blood substitute called Blood Lite made from soy). A refreshing take on the brooding vampire romance, with a misfit vampire protagonist readers are certain to love."  –Publisher's Weekly
"Dracula smoothly transformed into a bat. Buffy targeted the undead to drive home a point, and now thousands of girls yearn for Edward, Stephanie Meyer's gorgeous and immortal protagonist in her Twilight books. So, what can Brian Meehl add? The veteran writer brings a delightful twist to Suck It Up.  The novel's final 100 pages plunge into a tense life-or-death struggle, and the action-packed showdown is video-game-worthy." –The Cleveland Plain Dealer
Best First Kiss  "The honor goes to Morning and Portia from Suck It Up (Delacorte, 2008) by Brian Meehl. Like any good first kiss, just before Morning (a very funny vampire) and Portia (a very cool, alterna-chick) lock lips, there's the requisite nervousness, blushing, pulse racing, and fumbling, as well as the final moment of delightful giving in. But poor Morning; he's so taken by Portia's lips and the intense barrage of feelings that accompany a serious kiss, that he ends up with a bad case of dentis eruptis (aka fangs) and the kiss gets cut short. Lucky for him, Portia is forgiving."  –School Library Journal, Donna Freitas, "Be Still My Heart: A Shameless Guide to Sweet, Sexy Romance Novels for Tweens and Teens."
"Suck It Up subtly portrays how readers should not give up on life despite setbacks. Best of all, Brian Meehl's tongue-in-cheek humor and infinitely punny play on words will leave you smiling while telling a great story and simultaneously poking fun at the increasingly popular vampire action genre.If you like vampire books, this was a refreshing and funny read." –ALAN's Picks August 2008 (ALAN: The Assembly of Literature for Adolescents)
"Not quite as dark as most vampire stories, Meehl's story is filled with humor, quirky characters, light romance, …and a lot of fun." –School Library Journal


Behind the Story
More IVL Webpages
Brian Reads: "How to See a Vampire" and "The First Clumsy Kiss" from Suck It Up.