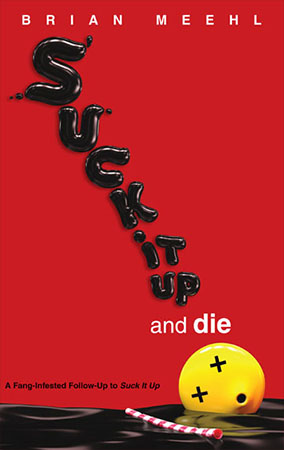 Publisher:

Delacorte Books for Young Readers

Available in:

Hardcover, Paperback, Kindle, Nook
The sequel to Suck It Up Sneak Peek: 1st Two Chapters! 
Dear Reader,
Do you wish vampires would lighten up? You know, step from the twilight, and stop being such mopey misfits?
Wait no more. After stumbling into the light in Suck It Up, me and the vampires who've gone mainstream without going bloodstream are marching in the first Vampire Pride Parade!
Just two problems. 1) Some mortals still believe us non-threatening vamps are the new "red menace." 2) There's a super-bad creature of the night with a thirst for revenge who wants vampires to "Take back the bite!"
Who gets sipped? Who gets flipped? I dunno how it all shakes out, and stakes out, but I guarantee this: in the end someone's gonna suck it up and die!
Your Blood Lite drinking pal,
Morning McCobb
P.S. My mortal girlfriend, Portia Dredful, is back too, testing my swill – I mean, WILLpower!
Vampires continue their hijinks and hilarious makeover in this folly-infested follow-up to Suck It Up.

Reviews
"Meehl fabricates a vampire experience that is not only laugh-out-loud funny but nuanced as well." – School Library Journal (Full review below)
"A year has passed since the historic America Out Day, the day on which awkward 16-year-old vampire Morning McCobb led other vampires in their quest to integrate peaceably into everyday human life. Now, with Congress's vote on the Vampires Rights Act just days away, most vampires (sanguivores is the PC term) are on their best behavior. In this relatively gore-free, stand-alone sequel to Suck It Up (Delacorte, 2008), Morning wants out of the spotlight. He just wants to spend time with his human girlfriend, Portia, and focus on training to be a fireman for the NYFD. The advancement of vampire rights and Morning's desire to lead a quiet life are jeopardized when the evil vampire he and Portia killed in the first book comes back to life bent on revenge. It does not help that Becky-Dell Wallace, an outspoken and powerful anti-vampire congresswoman, is doing all she can to fan the flames of vampire phobia. It is up to Morning, Portia, and a few of their friends to fight back before the nice vampires lose the political ground they have gained. This book defies any efforts to give it a genre label. Action and suspense abound, with a little romance thrown in for good measure. In addition, between the soy-based blood substitute favored by vegan vampires and faux terms such as "dentis eruptus," Meehl fabricates a vampire experience that is not only laugh-out-loud funny but nuanced as well." – School Library Journal
"This writer is beyond hysterical; this whole world he has created with the poor vamps having to drink only artificial blood substitutes or properly milked animal blood; the extremists who are actually called 'wanna-bleeds' who are all for consensual bloodlust happening in the back rooms where the law can't find them – each and every page has something new, interesting and laugh-out loud funny. All this reader wishes is that Morning could have a new adventure every single month! Forget Bella and Edward…THIS is the vamp book to fall in love with!" –  Golden Isles of Georgia
"Suck It Up and Die is an entertaining and laugh out loud funny novel of vampires fighting for their rights to be part of the crowd. The author keeps you reading with plot twists I didn't expect and a very unique take on the vampire myth, coming up with a kicker that caught me by surprise. With its cast of zany side characters and action packed plot, there's a little something for everyone inside its cover." – 4 ½ stars by Long and Short YA Reviews
"Brian Meehl has written a laugh-out-loud, wacky novel in Suck It Up and Die that also is quite touching and suspenseful…I enjoyed every minute of it and will be first in line if Book #3 is written." – Popcorn Reads
"Even though this story is all about vampire rights, it's nearly impossible to miss the correlation between the IVL's struggle — complete with a Vampire Pride Parade — and the struggle for LGBT rights in America today. Cheesy humor and puns abound, helping to keep the story light, but some pretty important messages still come through." – Libraina: Great Books for Tweens and Teens


Behind the Story
Brian Reads: "A Vampire is Born" and "Bloodlust You Can Trust!" from Suck It Up and Die.