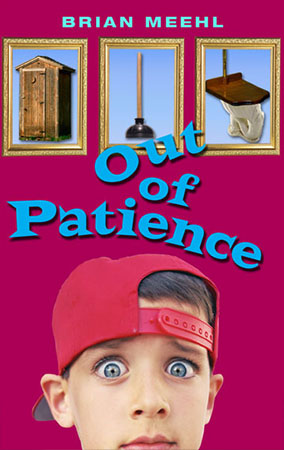 Publisher:

Yearling

Available in:

Hardcover, Paperback, Kindle, Nook
12-year-old Jake Waters is mortified by his dad's dream of opening the American Toilet Museum. Jake's sick of hearing about antique toilet seats and vintage plungers. Toilets have caused enough turmoil in Patience, Kansas, already.
You see, Patience is cursed. Has been ever since 1877, when Jeremiah Waters installed the first flush toilet west of the Mississippi. The Dolphin Deluge Wash-down Water Closet caused a mighty big stink, and since then Patience has been drying up like a cow pie in August.
Jake wants out of Patience. Sooner than later.
But when his father acquires an ancient toilet plunger for his museum, it triggers the curse's last promise: "The day the Plunger of Destiny returns, the final destruction begins!" As clouds of doom gather, Jake is torn between the urge to run and the desire to do the one thing that might save Patience: solve the mystery of what happened the day Jeremiah Waters last sat in the water closet of doom.
Join Jake and his friends as they try to flush out the truth in this twisted tale of pipe dreams and toilet trouble.

Awards
Junior Library Guild Selection 2007
Bank Street College of Education's Best Books of the Year 2007-08
Lone Star Reading List 2007-08
Sunshine State Young Readers Award nominee 2008-09
Cybils for Middle Grade Fiction Nominee 2007
Massachusetts Children's Book Award Master List 2010

Reviews
"This first novel is delightfully tongue–in–cheek, with more plot twists than one can shake a plunger at. Teen readers should love this odd mixture of mystery and potty humor." – Kevin Beach, VOYA (Voice of Youth Advocates)
"Featuring likeably human main characters, a colorful supporting cast, memorably offbeat set pieces and a credible small–town atmosphere, this debut should leave plenty of readers flushed with laughter." – Kirkus Reviews
"Meehl has a talent and a sense of humor that hoists him heads and tails above the competition.…Reading Out of Patience is a joy. I don't think I've enjoyed reading a book as much as I enjoyed this one in a long long time.… It's hee–larious. Kids will adore it and adults will turn up their noses at the bathroom jokes while secretly succumbing to its charms." – E. R. Bird "Ramseelbird," Amazon, Top 100 Reviewer
"Out of Patience is one of the funniest, most enjoyable and amusing young adult books that I have read in some time. The author plays on male humor and spices the tale with baseball, buried treasure, historical robbery and ancestral mystery. Meehl leaves bits of humor on every page and reveals beauty even in a storm – a talent sometimes difficult to find among the young adult genre. I recommend this book to any family with children between the ages of nine and thirteen." – Curled Up With a Good Kid's Book



Behind the Story
Sira's List
Toilet Trivia
Brian reads "It Came From Above" and "Take Me Out to the Stink Farm" from Out of Patience.