Behind the Story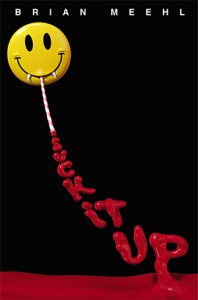 The origin of Suck It Up? Teeth-grinding frustration.
When I was writing kids' TV for PBS back in the 1990s, I was often censored by my producers. I couldn't put angels on a wedding cake because it was too Christian and might offend non-Christians. I couldn't write about birthday parties because Jehovah's Witnesses don't believe in celebrating birthdays because it's a celebration of self.
At some point, I became brainwashed by all this political correctness and had a eureka moment. The one minority that no one seemed to care about was our bloodsucking brothers and sisters: vampires. I mean, they have special needs too, right? They're subjected to unfair stereotyping. They even suffer from a terrible hate-crime: staking.
So I was determined to write a story that would let everyone know that vampires are like everyone else. They just have a slight drinking problem–correction–they are "diet-challenged."
The story started as a screenplay and it was called "Don't Call Us Vampires – We're Undead Americans!" It even won a screenplay competition: 1st place in The New England Screenwriting Conference of 1998. The Conference gave me a wonderful staged reading.
After I finished my first novel, Out of Patience, I decided to resurrect the screenplay as a YA novel. And that's how Suck It Up rose from the grave of a writer's trunk.
Research
Besides a skulking around New York City to scout locations for Suck It Up, I read many fictional vampire books, from Bunnicula to Undead and Unwed. Here are some of the non-fiction books I read to fuel my brain about blood, blood drinkers and vampires.
Curran, Rob. Encyclopedia of the Undead: A Field Guide to the Creatures That Cannot Rest in Peace. Franklin Lakes, NJ: New Page Books, 2006.
Hayes, Bill. Five Quarts: A Personal and Natural History of Blood. New York: Ballantine Books, 2005.
Guiley, Rosemary Ellen. The Complete Vampire Companion: Legend and Lore of the Living Dead. New York: Macmillan, 1994.
Konstantinos. Vampires: The Occult Truth. St. Paul, MN: Llewellyn Publications, 1996.
Melton, J. Gordon. The Vampire Book: The Encyclopedia of the Undead. Detroit, MI: Visible Ink Press, 1994.
Riccardo, Martin V. Liquid Dreams of Vampires. St. Paul, MN: Llewellyn Publications, 1996.